Construction Update 3/12/2020
Steel arrived on site this week for the Sales building and did not miss a beat to begin erecting. The service building slab has been poured and will soon have the metal pre-engineered building erection begin. Conduit for service building power has been run and our front parking lot is set for paving this week.
Sales Building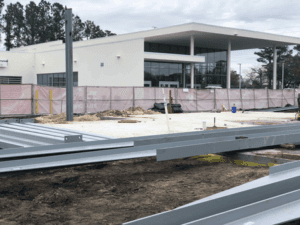 The first column was stood after 3 days of welding to splice together the beams that run from front to back of the building as seen below. Due to the length of the beams, these could not be delivered in one piece and each were welded together upon arrival. The longest beam is close to 80′!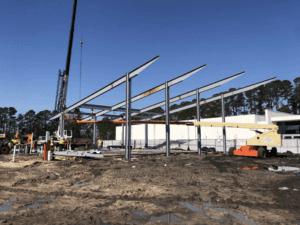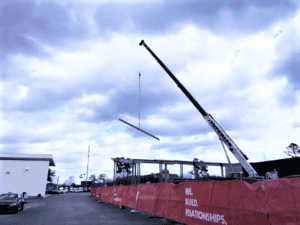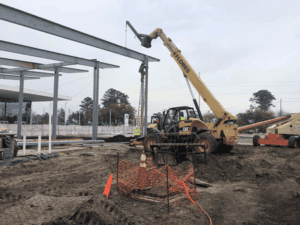 Structural steel erection for the sales building has quickly progressed and we are now able to see the building taking shape. The building frame will complete this week and steel decking will begin.
Service Building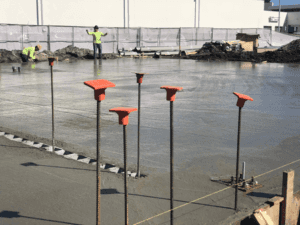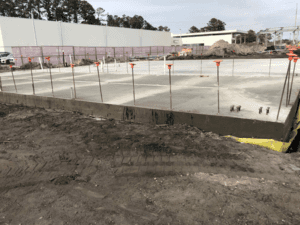 Concrete for the service building slab was placed this week. Next up: metal building erection.
Site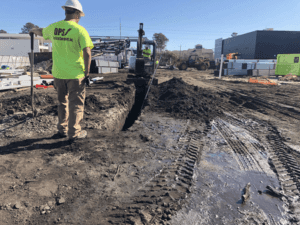 Conduit for power to the service building has been run across the site to connect the buildings.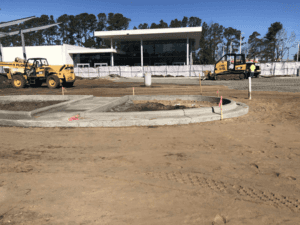 MSB Development continues to make progress on the front parking area. Curbs for islands were placed and irrigation sleeves run. Fine grading has completed and ABC stone has been placed to prepare for paving.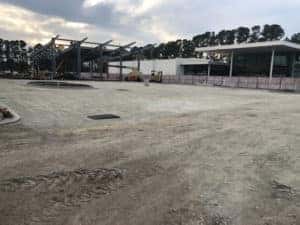 Looking Ahead:
-Begin service building erection
-Begin sales building steel decking
-Begin asphalt paving at front parking area