Construction Update 7/3/2020
Baker Collection
Construction Update 7/3/2020
The Baker Collection buildings continue to push to the finish line. The Sales building received a new addition this week – the exterior sign! Showroom lighting has been installed and tile flooring is laid and protected. The Service building received its first coat of paint, completed gas piping, and nears permanent power. The site had a visit from our Virtual Construction department this week for a quick in-progress drone flyover. Check out the footage of the site below!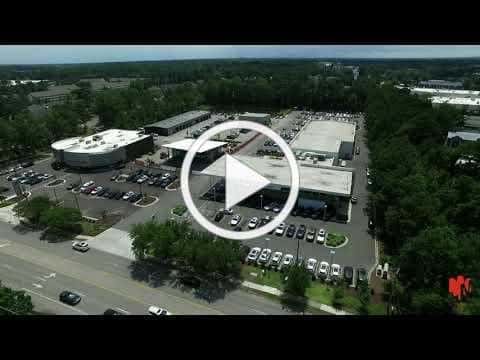 All About That Shape – the design intent for the shape of the Collection sales building (center) is to tie in the rectangular BMW building (shown right) and curved Porsche building (shown left).
Sales Building
The exterior building sign was installed and unveiled
showcasing the Baker Motor Company logo.
DPS Electrical began and completed the showroom lighting install this week. Fire alarm devices were installed as ceiling tile install by Grey Interiors begins.
A quick look at the breakroom tile installed by Tile Plus before floor protection was placed.
Exterior glazing install completed and frame face plate install began.
Service Building
The building service install continues in the shop with the transformer now hung as we close in on permanent power.
The bathroom, equipment room, and photobooth all received prime and first coats of paint this week.
Site
Landscaping by Freeman Landscape began across the site at parking lot islands and both buildings.
Site light poles have been stood at all locations.
Looking Ahead
Sales Building:
· Complete interior glazing
· Complete ceiling tile install
· Complete final painting
· Building final inspection
Service Building:
· Complete building service
· Complete photobooth lighting install
· Continue interior paint
Site:
· Remove remaining site fencing
· Complete landscaping
· Complete fine grading & paving